Investors, please reach out to [email protected] if you have any questions regarding this investment opportunity or indicate your soft commitment through the link above!

Watch their pitch and Q&A session with FundedHere!

Pitch Session
Quick Pitch
The biggest challenge for any business is signing up customers. In India, it is extremely difficult to get customers through digital channels, hiring a sales force on the ground is not an alternative as it is both expensive and time-consuming. PickMyWork is a gig platform that gives businesses an on-demand sales force to sign customers at 1/20th the cost on a pay-per-task model, using upskilled unemployed youth. Clients provide a condensed training video to educate gig workers on the products and services to be sold.
Problem Statement
1. Customers (Merchants) are not engaged on social media
With the low smartphone penetration rate in India, social media marketing is very costly

These installations rarely lead to daily active users
2. Keeping an in-house sales team is costly
Companies are burning millions on sales hire to get merchants to install their apps

Not feasible for smaller businesses

Takes up too much time from business owners
Solution
PickMyWork developed a gig platform that gives businesses an on-demand sales force that provides services such as merchant acquisition, sales, auditing, and more to come! PickMyWork has helped 90,000 small-medium businesses in India scale up to 10x faster with their cutting edge technology in customer acquisition, providing up to 31.6% of cost savings.
Market Size
PickMyWork has a Total Addressable Market of US$661bn and Serviceable Addressable market of US$3.2bn. The gig economy is rising with the number of freelance/contract workers rising from 20% to 25% in the past 2-years and 1 in every 4 freelancers globally is from India.
Product Summary
PickMyWork's digital platform allows businesses to easily acquire workers and help youths to find, interview, train and manage their job all in one app:
1. Business Facing Side
Job listings

Automated forms for job postings

City-specific management for jobs
2. Gig Working Facing Side
Easy application for all available jobs

Video and text job descriptions

Automated interview process with PickMyWork HR

Digital in-app work contracts

Digital in-app jobs specific training videos and onboarding
Business Model
1. PickMyWork collects $4 for every task completed from businesses
2. $2 (50%) is passed on to the gig worker as payment
3. Development of technology to monetise gig worker data for insurance and loans for increased margins
4. Pilots underway to offer services for companies to advertise gig workers
Traction
PickMyWork is in 150 cities across India signing 15,000 customers for their clients every month. Their user base has 40% week-on-week growth.
50% increase in inbound leads month-on-month over the last 6-months
6x total revenue in 12-months and currently running at breakeven
PickMyWork's clients include:
Competitive Landscape
Key Team Members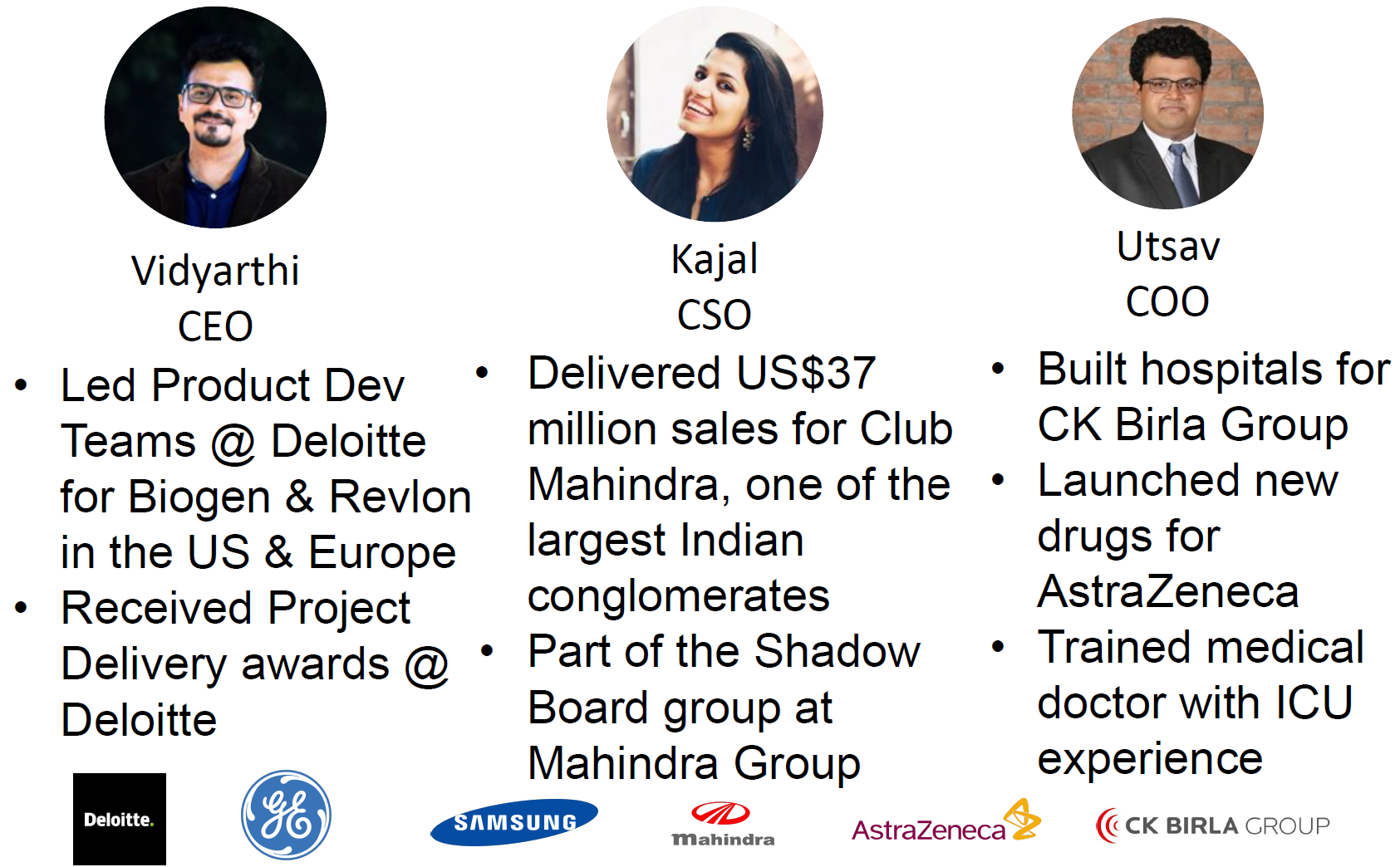 Fundraising Round & User Of Funds
PickMyWork is raising a Pre-series A priced round of US$1m with a term sheet and investment of US$500k secured from lead investor SOSV at a US$6m pre-money valuation. US$200k has been allocated to FundedHere.
1. Building Gig Worker Population (40%)
Marketing campaign costs for increasing app installations
Digital training and onboarding costs to retain active gig workers
2. Technology & Digitalisation (30%)
Enchanced dashboard to manage more gig workers per manager
In-app messaging for gig workers to raise queries
Monetise gig worker data through opportunities like insurance, loans ,medical and reward
Leverage city-level learning to improve gig workers productivity
Enchance upskilling engine using training and test scores to predict user performance
Press
Website - www.pickmywork.com