Investors, please reach out to [email protected] if you have any questions regarding this investment opportunity or indicate your soft commitment through the link above!
Do check out the recordings for the pitch and Q&A respectively done with FundedHere!
Quick Pitch
Trusted by restaurant (retailers) chains owners & chefs worldwide, FoodRazor provides Back-of-House F&B operators an omnichannel platform to manage paper receipts and syncs with accounting software. Helping merchants to digitise data entry while providing insights for better purchase decisions, cutting costs, and increasing profit margins.
Problem Statement
Back-of-House operations in small restaurants still rely on traditional methods, leading to human resources inefficiencies and cost mismanagement.
Manual Back Office - causes restaurants over 20+ man-hours monthly and prone to human errors.
Delayed Price & Cost Information - unable to track costing of raw materials efficiently
No Pricing Transparency or Clarity - leading to a decrease in gross profits by 3-10% monthly
Fragmented Supply Chain - hours spent tracking widely different ordering methods from different suppliers
Solution & Product
FoodRazor empowers retailers by digitizing invoice management, providing line-item data insights, and optimizing the vendor ordering system. Empowering retailers to reduce operational costs, improve transparency and accountability.
Digitizing Invoices - Upload image or PDF via mobile or desktop, which is then stored in the cloud.
Accounting - Line item level of detail and integration with multiple accounting software.
Placing Orders - Allow back-of-house to order raw materials from one single screen. With no supplier onboarding required.
Market Size
The current focus is on high-income countries in the region, Singapore, Australia, New Zealand, and Hong Kong, which houses over 120,000 F&B locations ready for digital transformation.
Target Customer
FoodRazor is ideal for businesses with high invoice volumes and volatile supply price changes. The main target is F&B owners with 1-5 locations but also work with larger players as well as accounts who serve a portfolio of F&B Clients. FoodRazor has also successfully attracted customers from other verticals - pet shops, constructions, and cosmetic products.
Revenue Model
B2B SaaS with Volume-based pricing - monthly subscription per location for access to the platform and 60 invoice credits. Customers have the option to purchase additional invoice credits to accommodate larger invoice volumes.
Data Insights - Monetize the abundance of accurate and detailed data that helps F&B ecosystem players understand their customers' transactional, behavioral and profiling data better. This helps clients understand their business better and make smarter decisions.
Traction
FoodRazor is helping more than 300+ retailers in 11 different markets digitizing over 1 million invoices worth $1bn of transactions.
MRR of $14,000 + $2,650 from invoice credits and revenue run rate of more than $260k for 2021.
Competitive Landscape
F&B Back-of-House is an untapped space, with many opportunities to collaborate with Front-of-House players for holistic integrations.
Key Metrics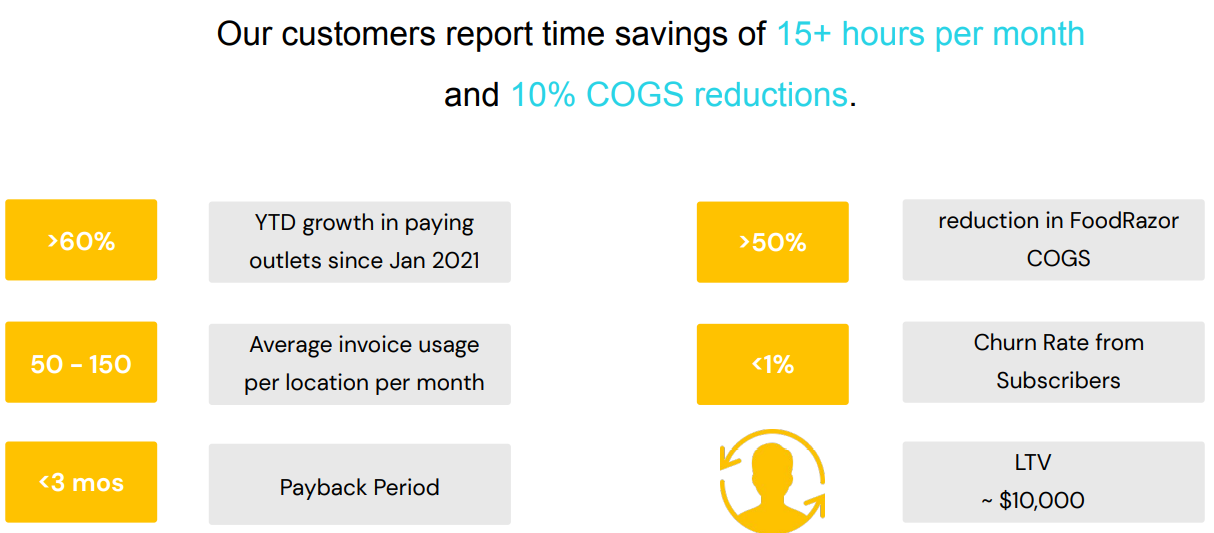 Key Team Members
FoodRazor team blends F&B experience with strong technical expertise to create and deliver a product that actually helps F&B owners in a way they understand.
Fundraising Round
FoodRazor is raising S$350,000 on a S$1.5m pre-money valuation for their pre-series A round. Investments of S$250,000 secured from Cocoon Capital (https://cocooncap.com/) and 2Be.lu (https://2be.lu/).
FundedHere is looking to raise $150,000 to close this round.
Use of Funds
Funds will be used to further drive growth and tech enhancements to reach $60k MRR by Q2 2022.